Alger Pugh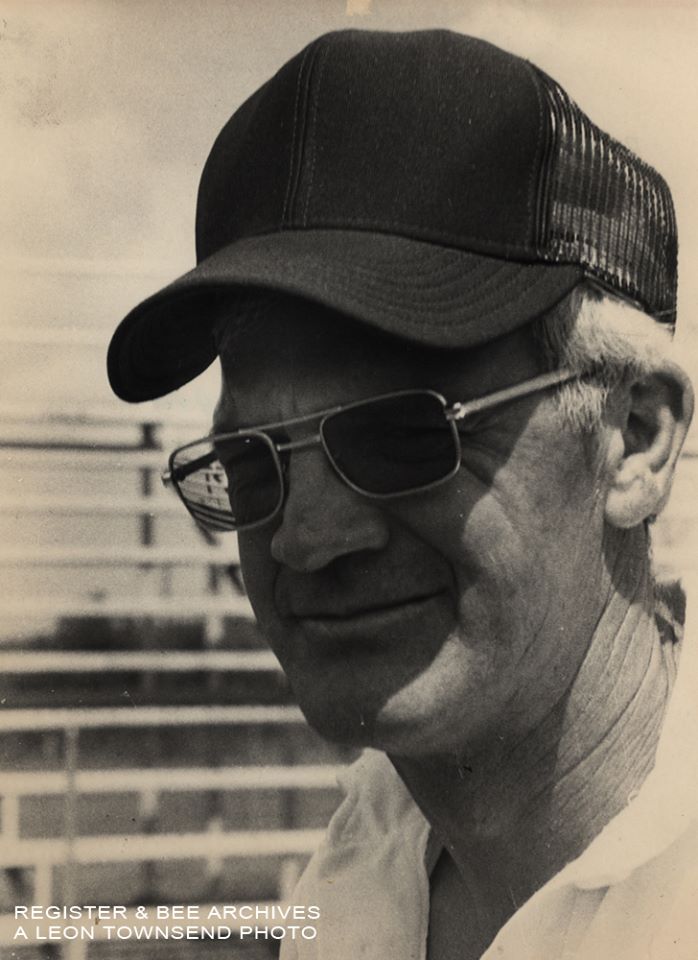 From 1964-1983, Alger Pugh WAS G.W. Football. He took a team that had a somewhat iffy tradition, and established them as a state powerhouse in his 20 years as coach. His teams were noted for their hard-hitting ability and their consistency. His shadow still looms over the program, more than 20 years after his untimely death. Pugh died of a heart attack in 1984 at the age of 47.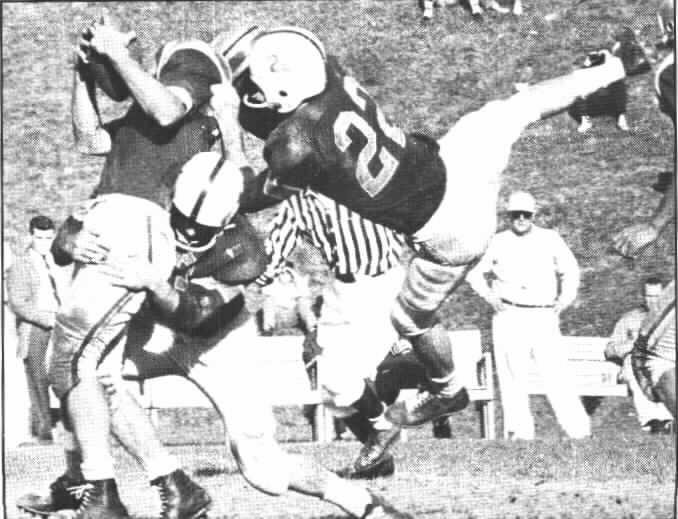 Coach Pugh was quite the player in his day. At Virginia Tech, he led the Hokies in rushing one year, and was a ferocious tackler on defense.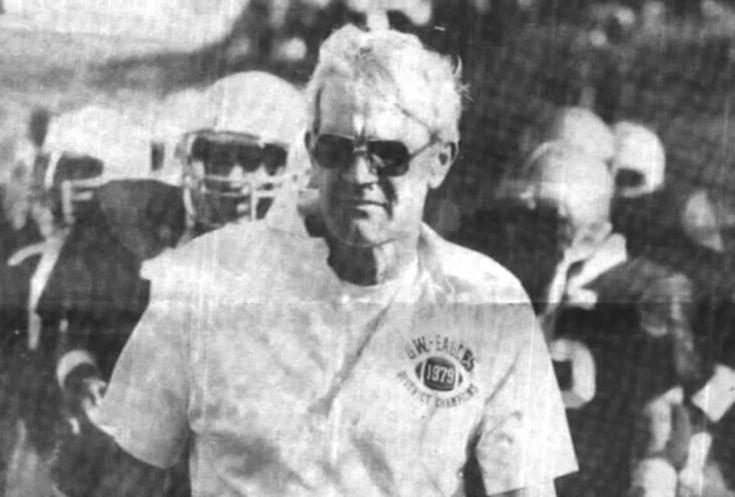 Photo courtesy Danville Register and Bee
Coach Pugh patrols the sidelines during the 1982 State Championship game against Lake Taylor. G.W. won 58-15.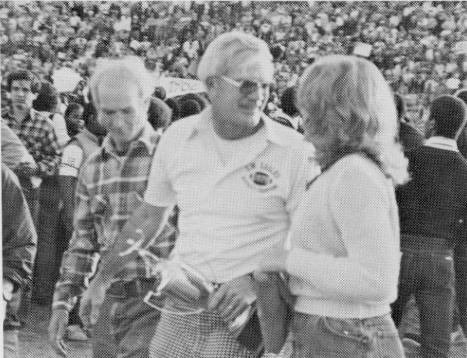 Coach Pugh with the trophy after the 82 title game!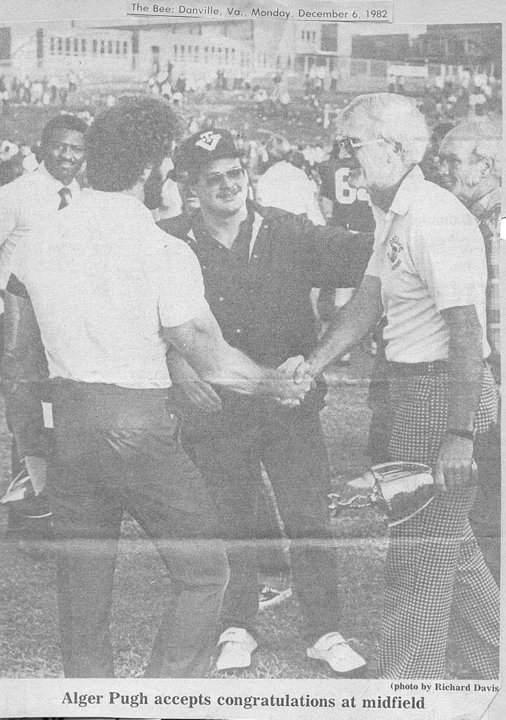 Register and Bee photo of the post-game celebration.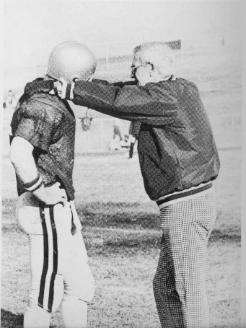 Coach Pugh talks strategy with Jamie Harris in 1981
---
Alger Pugh's record at G.W.
| | | | | |
| --- | --- | --- | --- | --- |
| YEAR | W | L | T | PLAYOFF RESULT |
| 1964 | 4 | 5 | 1 | DID NOT QUALIFY FOR PLAYOFFS |
| 1965 | 4 | 4 | 2 | DID NOT QUALIFY FOR PLAYOFFS |
| 1966 | 5 | 3 | 2 | DID NOT QUALIFY FOR PLAYOFFS |
| 1967 | 4 | 6 | 0 | DID NOT QUALIFY FOR PLAYOFFS |
| 1968 | 10 | 0 | 0 | WON STATE CHAMPIONSHIP |
| 1969 | 5 | 4 | 0 | DID NOT QUALIFY FOR PLAYOFFS |
| 1970 | 9 | 1 | 0 | DID NOT QUALIFY FOR PLAYOFFS |
| 1971 | 9 | 1 | 0 | DID NOT QUALIFY FOR PLAYOFFS |
| 1972 | 8 | 1 | 1 | DID NOT QUALIFY FOR PLAYOFFS |
| 1973 | 7 | 3 | 0 | DID NOT QUALIFY FOR PLAYOFFS |
| 1974 | 9 | 2 | 0 | LOST IN REGIONAL QUARTERFINALS |
| 1975 | 7 | 2 | 0 | DID NOT QUALIFY FOR PLAYOFFS |
| 1976 | 8 | 1 | 1 | DID NOT QUALIFY FOR PLAYOFFS |
| 1977 | 9 | 2 | 0 | LOST IN REGIONAL QUARTERFINALS |
| 1978 | 11 | 2 | 0 | LOST IN STATE SEMIFINALS |
| 1979 | 9 | 1 | 0 | LOST IN REGIONAL QUARTERFINALS |
| 1980 | 11 | 1 | 0 | LOST IN REGIONAL FINALS |
| 1981 | 13 | 1 | 0 | LOST IN STATE AAA CHAMPIONSHIP |
| 1982 | 14 | 0 | 0 | WON STATE AAA CHAMPIONSHIP |
| 1983 | 9 | 3 | 0 | LOST IN REGIONAL FINALS |
Career Record : 165-43-7 (2 State Championships)
---