Oct. 16th, 1994 (Homecoming)
G.W. 34 -- E.C. Glass 28
---
The Eagles' mascot fires up the home crowd before the 1994 homecoming game at Christopher Stadium against the unbeaten E.C. Glass Hilltoppers.
The 5-2 Eagles take the field against the #1-ranked 7-0 Hilltoppers.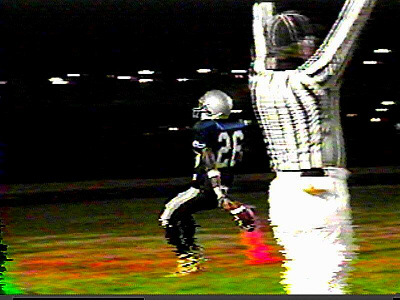 Keith Terry scored a first-half touchdown to highlight a see-saw affair, which saw a 14-14 tie going into the locker room.
But the second half belonged to Theomone Brooks, shown here in a subsequent practice. At halftime, he was named homecoming king. In the second half, he opened up with a 56-yard touchdown run, then scored again to give the Eagles a 34-14 lead. G.W. would then stave off a furious Glass rally, giving the Eagles a 34-28 win, and (eventually) the Western District Title!!
---