Dec. 2nd, 1996 (Division 6 Semis)
G.W. 7 Thomas Dale 0 (OT)
---

Photo courtesy Danville Register and Bee
Chanston Rodgers eludes a Thomas Dale defender Manquel Lewis.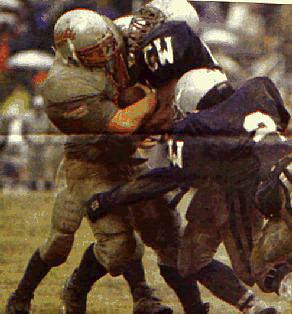 Clifton Johns and Tyrone Nunnally stop Dale fullback Kevin Tucker. Each had touchdown-saving tackles at different points in the game. Neither team could score in regulation, sending the game to overtime. G.W. had the ball first.
On second and goal from the seven in the second play of overtime, Rodgers faked to the fullback and kept it himself, getting in to score G.W.'s only touchdown.
On their overtime possession, Thomas Dale gained six yards on three plays. On 4th and goal from the four, a pass to the tight end is broken up, and the game is over!! G.W. 7---Thomas Dale 0.
---