Sonny Wall
Ralph "Sonny" Wall was Coach Alger Pugh's right-hand man. He came to Danville with Coach Pugh in 1964, and spent 20 years as his top assistant. During that time, the Eagles won State Championships in 1968 and in 1982.
Wall took over as head coach in 1984 and 1985 before turning the reins over to Eddie Martin. He worked under Martin as a top assistant from 1987-1995.
Wall died suddenly of a heart attack at his home on May 16, 2000.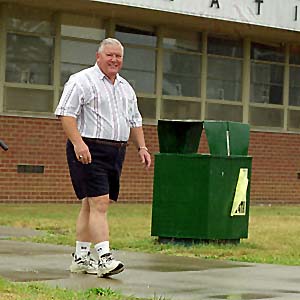 Photo courtesy Danville Register and Bee
---
Sonny Wall's record as Head Coach
Sonny Wall's record as an assistant coach
| | | | | | | |
| --- | --- | --- | --- | --- | --- | --- |
| 1964 | 4 | 5 | 1 | 152 | 121 | |
| 1965 | 4 | 4 | 2 | 107 | 154 | |
| 1966 | 5 | 3 | 2 | 111 | 120 | |
| 1967 | 4 | 6 | 0 | 120 | 134 | |
| 1968 | 10 | 0 | 0 | 373 | 61 | WON STATE CHAMPIONSHIP |
| 1969 | 5 | 4 | 0 | 137 | 104 | DID NOT QUALIFY FOR PLAYOFFS |
| 1970 | 9 | 1 | 0 | 215 | 113 | DID NOT QUALIFY FOR PLAYOFFS |
| 1971 | 9 | 1 | 0 | 260 | 65 | DID NOT QUALIFY FOR PLAYOFFS |
| 1972 | 8 | 1 | 1 | 306 | 114 | DID NOT QUALIFY FOR PLAYOFFS |
| 1973 | 7 | 3 | 0 | 274 | 119 | DID NOT QUALIFY FOR PLAYOFFS |
| 1974 | 9 | 2 | 0 | 302 | 182 | LOST IN REGIONAL FINALS |
| 1975 | 7 | 2 | 0 | 217 | 66 | DID NOT QUALIFY FOR PLAYOFFS |
| 1976 | 8 | 1 | 1 | 279 | 82 | DID NOT QUALIFY FOR PLAYOFFS |
| 1977 | 9 | 2 | 0 | 212 | 78 | LOST IN REGIONAL FINALS |
| 1978 | 11 | 2 | 0 | 246 | 75 | LOST IN STATE SEMIFINALS |
| 1979 | 9 | 1 | 0 | 222 | 74 | LOST IN REGIONAL FINALS |
| 1980 | 10 | 1 | 0 | 251 | 110 | LOST IN REGIONAL FINALS |
| 1981 | 13 | 1 | 0 | 399 | 131 | LOST IN STATE AAA CHAMPIONSHIP |
| 1982 | 14 | 0 | 0 | 485 | 113 | WON STATE AAA CHAMPIONSHIP |
| 1983 | 9 | 3 | 0 | 367 | 158 | LOST IN REGIONAL FINALS |
| | | | | | | |
| --- | --- | --- | --- | --- | --- | --- |
| 1986 | 5 | 5 | 0 | 136 | 176 | DID NOT QUALIFY FOR PLAYOFFS |
| 1987 | 4 | 6 | 0 | 145 | 155 | DID NOT QUALIFY FOR PLAYOFFS |
| 1988 | 7 | 4 | 0 | 199 | 146 | LOST IN REGIONAL QUARTERFINALS |
| 1989 | 8 | 3 | 0 | 182 | 106 | LOST IN REGIONAL QUARTERFINALS |
| 1990 | 8 | 3 | 0 | 338 | 147 | LOST IN REGIONAL QUARTERFINALS |
| 1991 | 9 | 2 | 0 | 304 | 83 | LOST IN REGIONAL QUARTERFINALS |
| 1992 | 10 | 2 | 0 | 334 | 150 | LOST IN REGIONAL FINALS |
| 1993 | 9 | 1 | 0 | 366 | 119 | DID NOT QUALIFY FOR PLAYOFFS |
| 1994 | 11 | 3 | 0 | 492 | 239 | LOST IN STATE AAA CHAMPIONSHIP |
| 1995 | 8 | 3 | 0 | 509 | 122 | LOST IN REGIONAL QUARTERFINALS |
| Total | 244 | 69 | 7 | | | |