Percy Moorman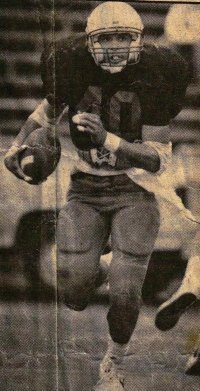 Percy Moorman may have been the best athlete to ever wear a silver bonnet. He took over as starting quarterback in 1982...a year after G.W. lost a heartbreaker, 15-to-9, to Hampton in the state championship game. Despite losing an All-American QB in Jamie Harris, the Eagles never missed a beat.
Moorman used his running and passing skills to direct an unstoppable G.W. offense. They scored 40 or more points in half of their 14 games, capping it off with a record-breaking 58-to-15 rout of Lake Taylor in the AAA championship game. They scored 485 points.
Despite losing a host of starters, Moorman returned to lead the Eagle offense in 1983, and the numbers remained impressive as they averaged more than thirty points a game. G.W. won another Western District championship, but lost in the Northwest Regional championship game.
After a heated recruiting battle, Moorman enrolled at North Carolina State in 1984. He was the first All-American Quarterback in North Carolina State's history. The first time he dropped back they flushed him from the pocket and he ran 65-yards for a touchdown.