Oct. 27, 2017 --- G.W. 70 Bassett 7
---
Record-setting night!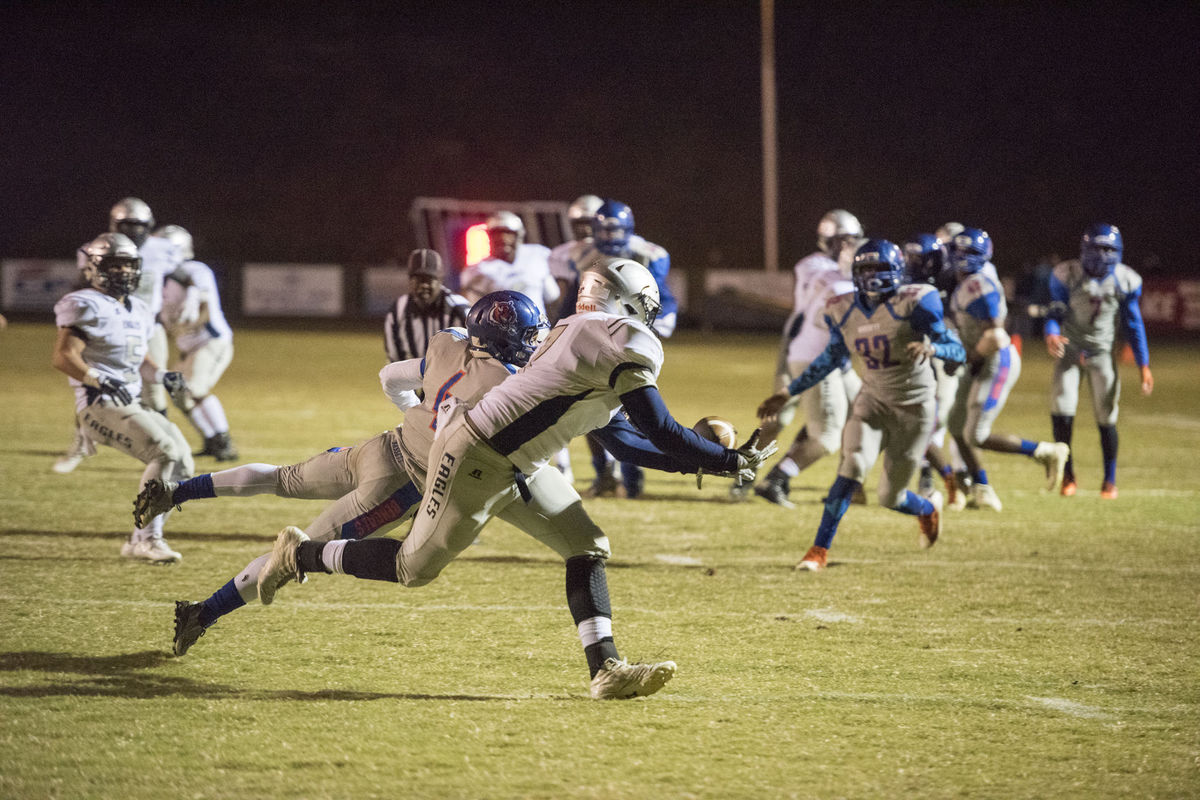 Darius Davis hauls in a pass from Sam Branch. Davis would fumble into the end zone, but recover it for a touchdown.
(Photos courtesy Matt Bell, Danville Register and Bee)
The GW Eagles clinched their fourth Piedmont District title in the past five years, while setting an all-time school record for points in a regular season. It was all part of their 70-7 win over Bassett---the second time the Eagles have scored 70 or more in a game this season!

After one quarter, the Eagles held only a 14-7 lead. The difference in the game at that point was an odd play where the Eagles fumbled during a sure touchdown, but recovered the ball in the End Zone to score any way!

The Eagles took wing in the second quarter, scoring 28 straight points. The capstone was a wild pass on the final play of the first half that looked like it would be intercepted. But Weber Harris stuck with it and the Eagles took a 42-7 lead into the break.

The second half also belonged to GW. Wesley Graves picked up two touchdowns in the third quarter. And Freshman Willie Edmonds scored twice in the fourth quarter.

The 70 points gives the Eagles 520 on the season, eclipsing the 501 points scored by the 1995 team during the regular season.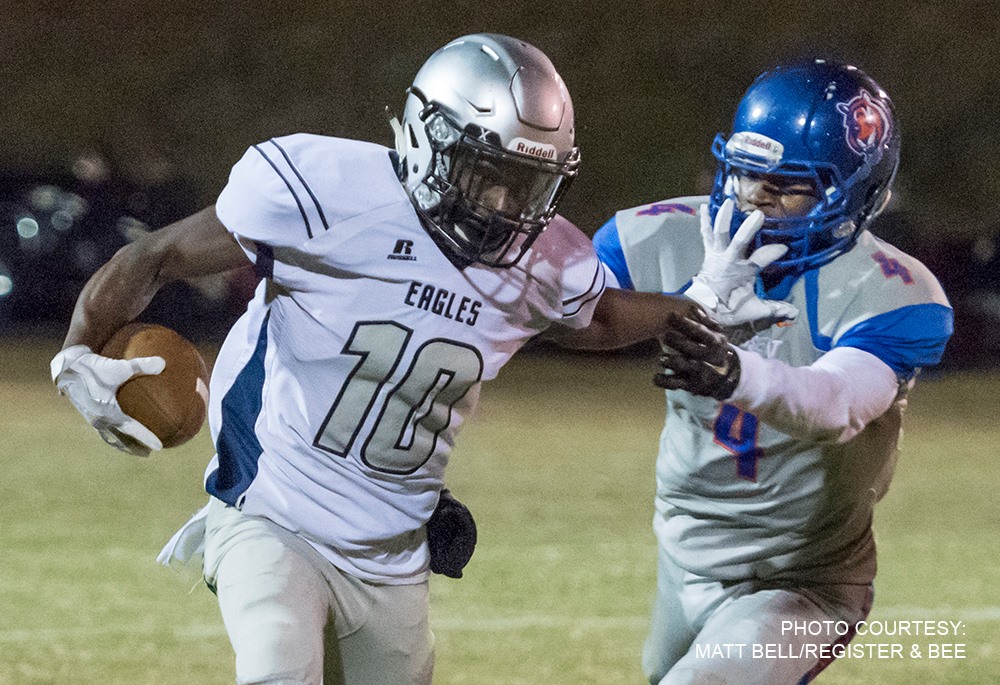 | | |
| --- | --- |
| | |
---
TEAM STATS
| | | |
| --- | --- | --- |
| | G.W. | OPP. |
| First Downs | 10 | 6 |
| Rushes-Yds | 32-427 | 23-39 |
| Pass YDs | 123 | 88 |
| C-A-I | 4-6-0 | 9-19-1 |
| Total Yards | 550 | 127 |
INDIVIDUAL STATS
| | | | | |
| --- | --- | --- | --- | --- |
| RUSHING | Att. | Yds. | Avg. | TDs. |
| Graves | 17 | 164 | 9.4 | 4 |
| Edmonds | 6 | 114 | 19.0 | 2 |
| Harris | 1 | 59 | 59.0 | 1 |
| Cs. Poole | 2 | 41 | 20.5 | 0 |
| Waller | 5 | 34 | 6.8 | 1 |
| Branch | 1 | 25 | 25.0 | 0 |
| | | | | | |
| --- | --- | --- | --- | --- | --- |
| PASSING | ATT. | Comp. | Yds | TDs. | Int. |
| Cs. Poole | 5 | 3 | 99 | 2 | 0 |
| Branch | 1 | 1 | 24 | 0 | 0 |
| | | | | |
| --- | --- | --- | --- | --- |
| RECEIVING | NO. | YDS. | Avg. | TDs. |
| Hairston | 2 | 63 | 31.5 | 1 |
| Harris | 1 | 35 | 35.0 | 1 |
| Davis | 1 | 24 | 24.0 | 0 |
| | | | |
| --- | --- | --- | --- |
| KICKING | XPM-XPA | FGM-FGA | Pts. |
| Horng | 10-10 | 0-1 | 10 |
| | | | | |
| --- | --- | --- | --- | --- |
| INT. | No. | | SACKS | No. |
| Waller | 1 | | Crl. Poole | 1.5 |
| | | | Ballard | 1 |
| | | | Cassida | 1 |
| | | | | | | | |
| --- | --- | --- | --- | --- | --- | --- | --- |
| SCORING | Rushing | Receiving | Return | XP | FG | Sf. | Points |
| Graves | 4 | 0 | 0 | 0 | 0 | 0 | 24 |
| Edmonds | 2 | 0 | 0 | 0 | 0 | 0 | 12 |
| Horng | 0 | 0 | 0 | 10 | 0 | 0 | 10 |
| Davis | 0 | 0 | 1 | 0 | 0 | 0 | 6 |
| Hairston | 0 | 1 | 0 | 0 | 0 | 0 | 6 |
| Waller | 1 | 0 | 0 | 0 | 0 | 0 | 6 |
| Harris | 0 | 1 | 0 | 0 | 0 | 0 | 6 |
First Quarter
GW — Waller 1 run (Horng kick) 7:38
Bs: K. Smith 1 run (kick good) 5:49
GW --- Davis fumble recovery in end zone (Horng kick) 3:38
Second Quarter
GW — Graves 40 run (Horng kick) 11:42
GW --- Hairston 55 pass from Cs. Poole (Horng kick) 7:23
GW --- Graves 3 run (Horng kick) 3:34
GW --- Harris 35 pass from Cs. Poole (Horng kick) 0:01.3
Third Quarter
GW — Graves 6 run (Horng kick) 10:55
GW — Graves 2 run (Horng kick) 6:44
Fourth Quarter
GW --- Edmonds 9 run (Horng kick) 8:42
GW --- Edmonds 1 run (Horng kick) 1:44
---