Oct. 20, 2017 --- G.W. 63 Franklin Co. 35
---
Big plays galore!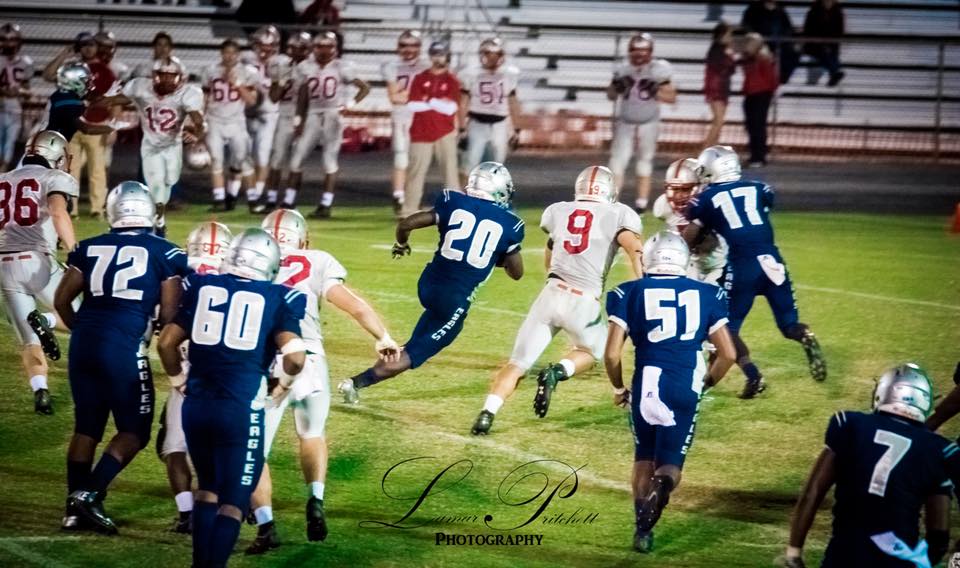 Wesley Graves uses a downfield block from Shawn Watlington to score from 20 yards out!
(Photos courtesy Lamar Pritchett Photography)
The GW Eagles won their sixth in a row, and their fourth straight in the Piedmont District, with a wide-open 63-35 Senior Night win over Franklin County.

GW wasted no time, scoring on their first possession. But Franklin County answered quickly with a long pass. GW then fired back with a familiar pitch-and-catch combo.

GW extended it to a two-score lead, but a long run cut their lead to seven. Another Shawn Watlington TD catch made it 28-14, GW; but Franklin County answered again on a long drive to pull within a score.

Then a wacky play set up another GW score. 20 seconds later, the Eagles dialed up some defense to score again. But Franklin County hit ANOTHER long pass just before the half to make it a two-touchdown game.

In the Second Half, GW got big scoring plays from thier defense and special teams; along with a third Wesley Graves touchdown, to ice the game.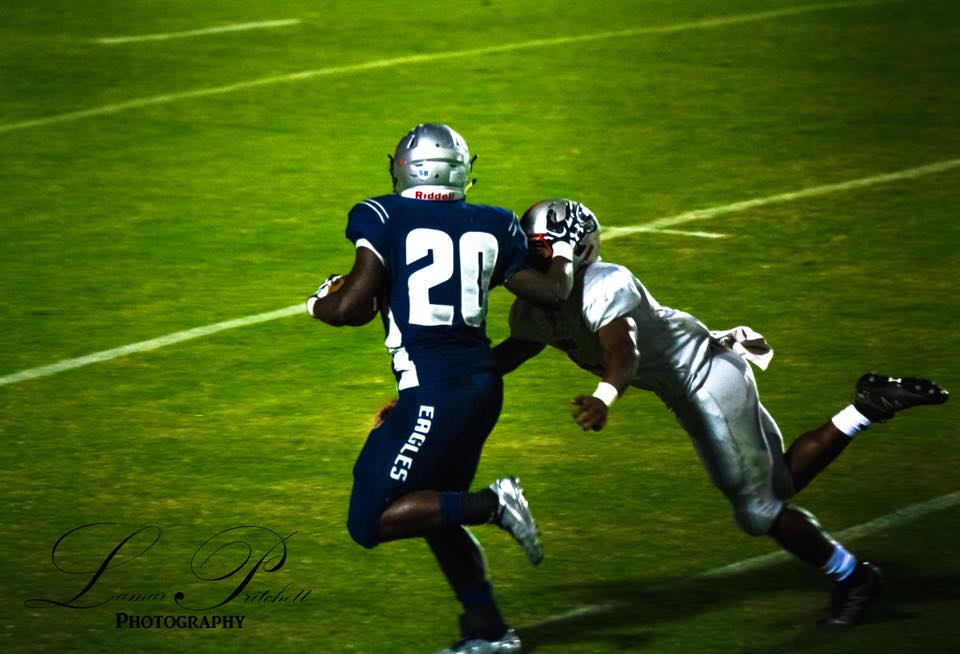 ---
TEAM STATS
| | | |
| --- | --- | --- |
| | G.W. | OPP. |
| First Downs | 13 | 6 |
| Rushes-Yds | 38-237 | 28-224 |
| Pass YDs | 91 | 184 |
| C-A-I | 5-7-0 | 7-13-2 |
| Total Yards | 328 | 408 |
INDIVIDUAL STATS
| | | | | |
| --- | --- | --- | --- | --- |
| RUSHING | Att. | Yds. | Avg. | TDs. |
| Graves | 19 | 148 | 7.7 | 3 |
| C. Waller | 6 | 41 | 6.8 | 0 |
| Harris | 2 | 30 | 15.0 | 1 |
| Cs. Poole | 4 | 15 | 3.8 | 0 |
| Crawford | 6 | 4 | 0.7 | 0 |
| Davis | 1 | -1 | -1.0 | 0 |
| | | | | | |
| --- | --- | --- | --- | --- | --- |
| PASSING | ATT. | Comp. | Yds | TDs. | Int. |
| Cs. Poole | 7 | 5 | 91 | 2 | 0 |
| | | | | |
| --- | --- | --- | --- | --- |
| RECEIVING | NO. | YDS. | Avg. | TDs. |
| Watlington | 3 | 62 | 21.0 | 2 |
| Harris | 2 | 29 | 14.5 | 0 |
| | | | |
| --- | --- | --- | --- |
| KICKING | XPM-XPA | FGM-FGA | Pts. |
| Horng | 9-9 | 0-0 | 9 |
| | | | | |
| --- | --- | --- | --- | --- |
| INT. | No. | | SACKS | No. |
| Ephraim | 1 | | C. Waller | 1 |
| Mease | 1 | | Williams | 1 |
| | | | | |
| | | | | | | | |
| --- | --- | --- | --- | --- | --- | --- | --- |
| SCORING | Rushing | Receiving | Return | XP | FG | Sf. | Points |
| Graves | 3 | 0 | 0 | 0 | 0 | 0 | 18 |
| Watlington | 0 | 2 | 0 | 0 | 0 | 0 | 12 |
| Horng | 0 | 0 | 0 | 9 | 0 | 0 | 9 |
| Williams | 0 | 0 | 1 | 0 | 0 | 0 | 6 |
| Mease | 0 | 0 | 1 | 0 | 0 | 0 | 6 |
| Ephraim | 0 | 0 | 1 | 0 | 0 | 0 | 6 |
| Harris | 1 | 0 | 0 | 0 | 0 | 0 | 6 |
First Quarter
GW — Graves 9 (Horng kick) 10:34
FC --- Manns 70 pass from Smith (Comer kick) 8:49
GW --- Watlington 33 pass from Cs. Poole (Horng kick) 7:22
GW --- Harris 30 run (Horng kick) 4:14
FC --- Smith 82 run (Comer kick) 3:12
Second Quarter
GW — Watlington 17 pass from Cs. Poole (Horng kick) 11:47
FC --- Smith 6 run (Comer kick) 5:18
GW --- Graves 2 run (Horng kick) 2:13
GW --- J. Williams 20 fumble return (Horng kick) 2:01
FC --- Manns 53 pass from Smith (Comer kick) 1:19
Third Quarter
GW — Ephraim 27 interception return (Horng kick) 2:05
GW --- Mease 15 fumble return (Horng kick) 1:11
Fourth Quarter
GW — Graves 20 run (Horng kick) 6:56
FC --- Gilbert 85 run (Comer kick) 5:42
---