Sept. 8, 2017 --- G.W. 57 Jefferson Forest 56
---
Lord Have Mercy!!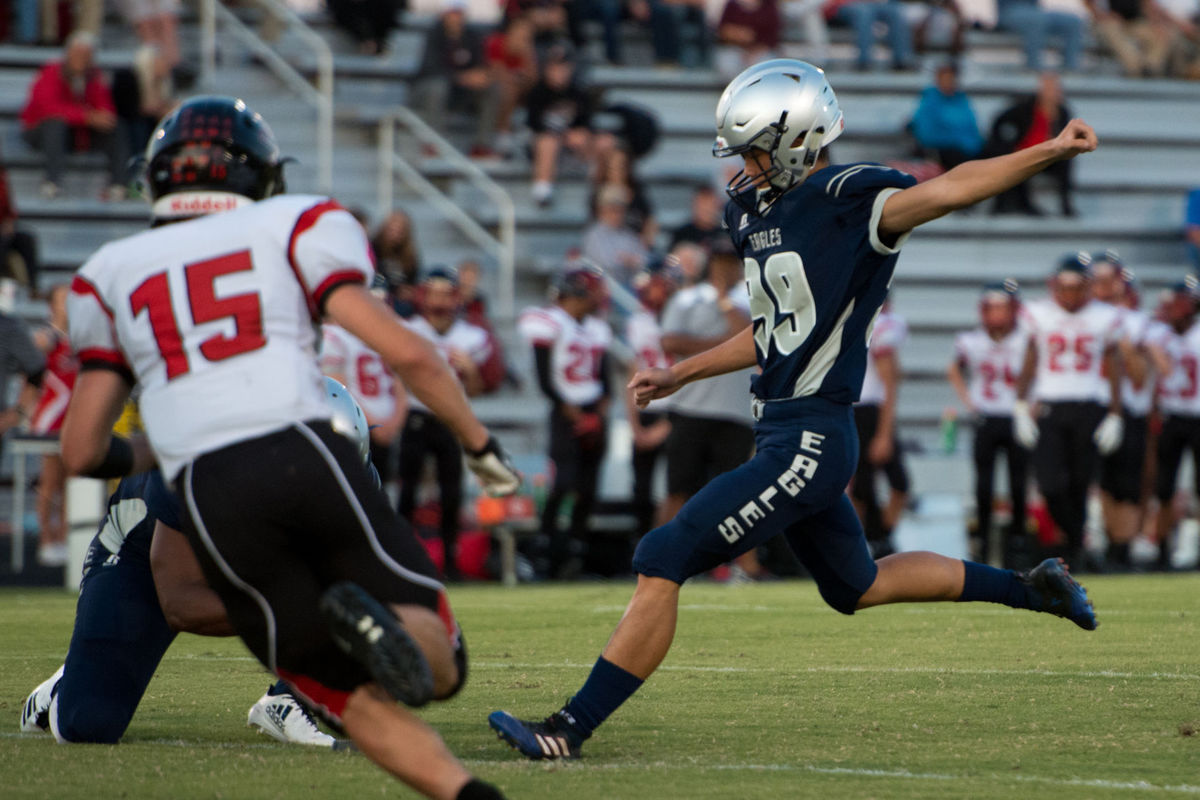 Jerry Horng's 38-yard Field Goal was the game-winner!!
(Matt Bell, Register and Bee, photos)
In my 28 years of calling GW Football, I don't think I've ever seen a game quite like this. The GW Eagles and Jefferson Forest Cavaliers could absolutely NOT stop each other from scoring. So in a game that a staggering 1,162 yards of offense, it came down to a well-executed special teams play.

The two teams spent the first half trading touchdowns. Each time GW scored, JF answered. The scoring included two touchdowns from GW tailback Curtis Waller, and a 97-yard TD pass for JF's John Hackworth. The Cavs scored with just 25 seconds left in the half to send us into the break tied at 28-28.

The second half was more of the same. Shawn Watlington scored twice on pass plays. When the Eagles missed an extra point, it allowed JF to take their first lead at 42-41 early in the fourth. Curtis Waller scored his third to make it 47-42; but JF answered with a score and a two-point conversion to re-take the lead, 50-47.

With only four minutes left in the game, Carlos Poole hooked up with Watlington a THIRD TIME to make it 54-50 Eagles. But JF appeared to break the Eagles' back on the very next play---an 80-yard touchdown run to re-take the lead 56-54. The Cavaliers very nearly recovered the subsequent onside kick. The Eagles took advantage of the field position. They converted a HUGE fourth-down-and- eight to keep the drive alive. That drive then stalled after a fumble at their 20. That's when Senior kicker Jerry Horng was brought into the game to line up an attempt at his longest career field goal. With the crowd chanting his name, he NAILED IT! Eagles win 57-56!!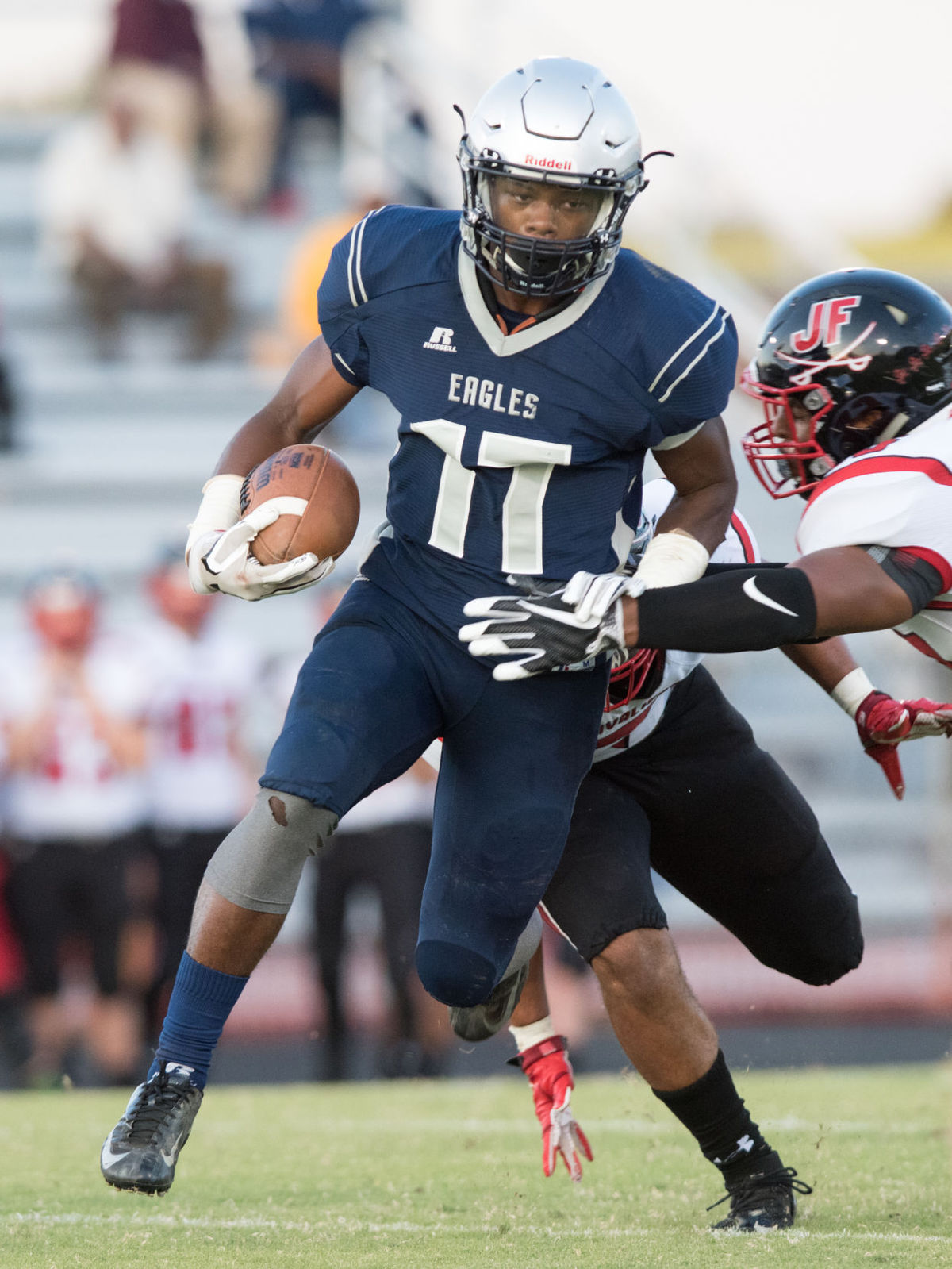 Shawn Watlington's 235 yards receiving marked a modern-day Eagle record!


---
TEAM STATS
| | | |
| --- | --- | --- |
| | G.W. | OPP. |
| First Downs | 18 | 16 |
| Rushes-Yds | 43-259 | 45-319 |
| Pass YDs | 287 | 297 |
| C-A-I | 11-18-0 | 8-10-0 |
| Total Yards | 546 | 616 |
INDIVIDUAL STATS
| | | | | |
| --- | --- | --- | --- | --- |
| RUSHING | Att. | Yds. | Avg. | TDs. |
| Cs. Poole | 15 | 57 | 3.8 | 1 |
| Waller | 20 | 145 | 7.3 | 3 |
| Harris | 7 | 55 | 7.9 | 1 |
| K. Elam | 1 | 2 | 2.0 | 0 |
| | | | | | |
| --- | --- | --- | --- | --- | --- |
| PASSING | ATT. | Comp. | Yds | TDs. | Int. |
| Cs. Poole | 18 | 11 | 287 | 3 | 0 |
| | | | | |
| --- | --- | --- | --- | --- |
| RECEIVING | NO. | YDS. | Avg. | TDs. |
| Watlington | 8 | 235 | 39.3 | 3 |
| Harris | 2 | 13 | 6.5 | 0 |
| Branch | 1 | 39 | 39.0 | 0 |
| | | | |
| --- | --- | --- | --- |
| KICKING | XPM-XPA | FGM-FGA | Pts. |
| Horng | 6-7 | 1-1 | 9 |
| | | | | |
| --- | --- | --- | --- | --- |
| INT. | No. | | SACKS | No. |
| | | | Ballard | 1 |
| | | | | | | | |
| --- | --- | --- | --- | --- | --- | --- | --- |
| SCORING | Rushing | Receiving | Return | XP | FG | Sf. | Points |
| Watlington | 0 | 3 | 0 | 0 | 0 | 0 | 18 |
| Waller | 3 | 0 | 0 | 0 | 0 | 0 | 18 |
| Horng | 0 | 0 | 0 | 6 | 1 | 0 | 9 |
| Cs. Poole | 1 | 0 | 0 | 0 | 0 | 0 | 6 |
| Harris | 1 | 0 | 0 | 0 | 0 | 0 | 6 |
First Quarter
GW — Cs Poole 4 run ( Horng kick) 9:52
JF — Hackworth 3 run (Strain kick) 7:37
GW — Waller 2 run (Horng kick) 5:31
JF — Blake 35 run (Strain kick) 2:53
GW — Waller 2 run (Horng kick)
JF — Hackworth 97 pass from O'Donnell (Strain kick)
GW — Harris 1 run (Horng kick)
JF — Hackworth 11 pass from O'Donnell (Strain kick)
GW — Watlington 11 pass from Poole (Horng kick)
JF — Keesee 36 pass from O'Donnell (Strain kick)
GW — Watlington 10 pass from Poole (kick failed)
JF — Hackworth 66 pass from O'Donnell (Strain kick)
GW — Waller 8 run (pass failed)
JF — O'Donnell 2 rush (Hackworth pass from O'Donnell)
GW — Watlington 38 pass from Poole (Horng kick)
JF — Hackworth 80 run (kick failed)
GW — Horng 38 field goal
---