Sept. 1, 2017 --- Amherst Co. 55 G.W. 45
---
Coming up short in another shootout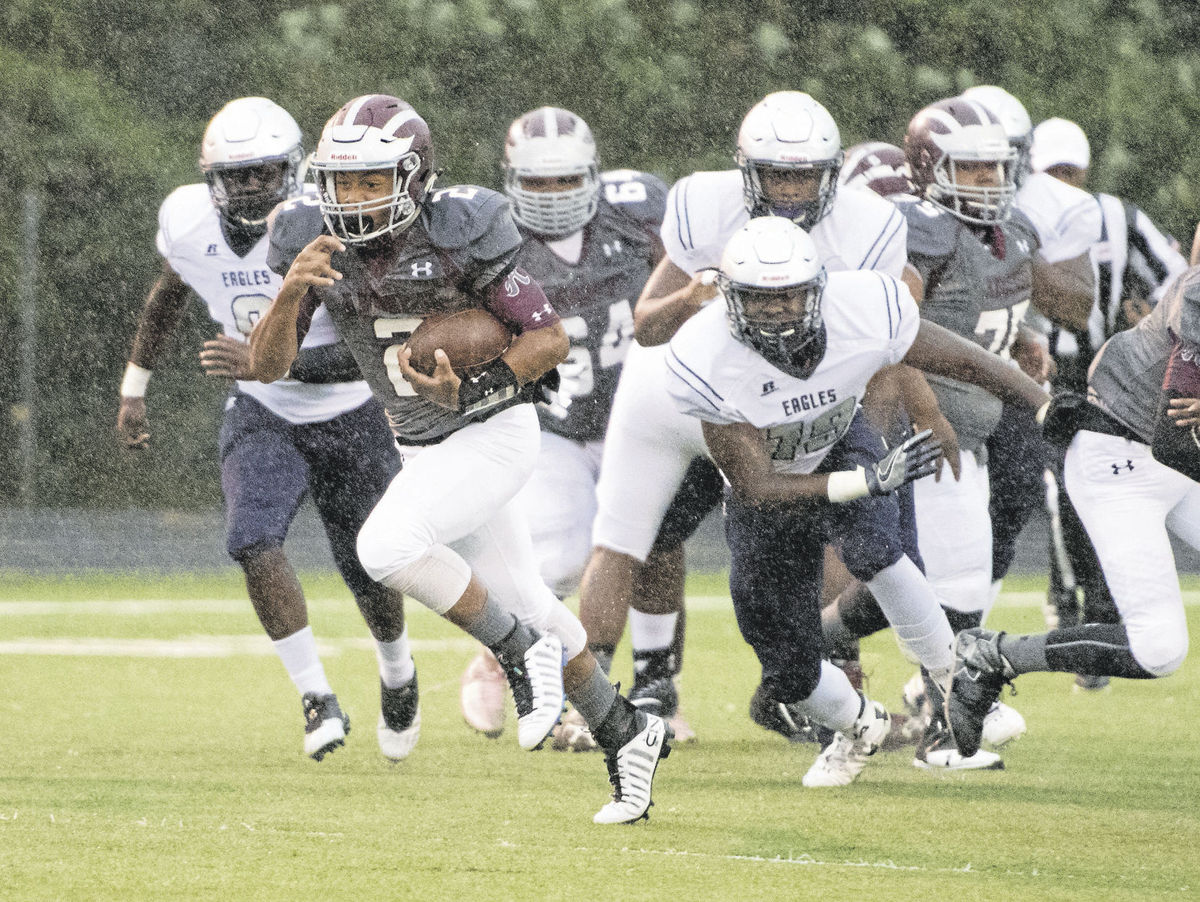 The Eagles saw too much of this. Frank Ross scores one of his five touchdowns
(Matt Bell, Register and Bee, photos)
This time, the GW Eagles came out on the wrong side of a shootout. A defense that was forced to replace four starters during the course of the same struggled with the Lancers' high-powered single-wing offense all night long, surrendering a school-record 583 yards during a 55-45 setback.

For the second week in a row, the Eagles gave up a touchdown on the first play of the game! This time they recovered quickly to take a 7-6 lead. After Amherst scored, the Eagles dialed long distance for their first touchdown pass of the year!

As the injuries began piling up for the Eagles, they had to go deep into their bench. Third-string tailback Curtis Waller ran for two scores as the Eagles built up a 28-12 lead. But a late first-half touchdown by the Lancers pulled them to within 28-19 at the break.

The second half belonged to Amherst. They scored on their first possession to move to within two. An Eagle field goal extended the lead to 31-26, but the Lancers continued to shred the injury-riddled Eagle defense; taking a 34-31 lead midway through the third. The Eagles mounted an impressive comeback drive, capped by a touchdown pass to re-take the lead.

But from there on, it was all Amherst. They scored three straight touchdowns to ice the game.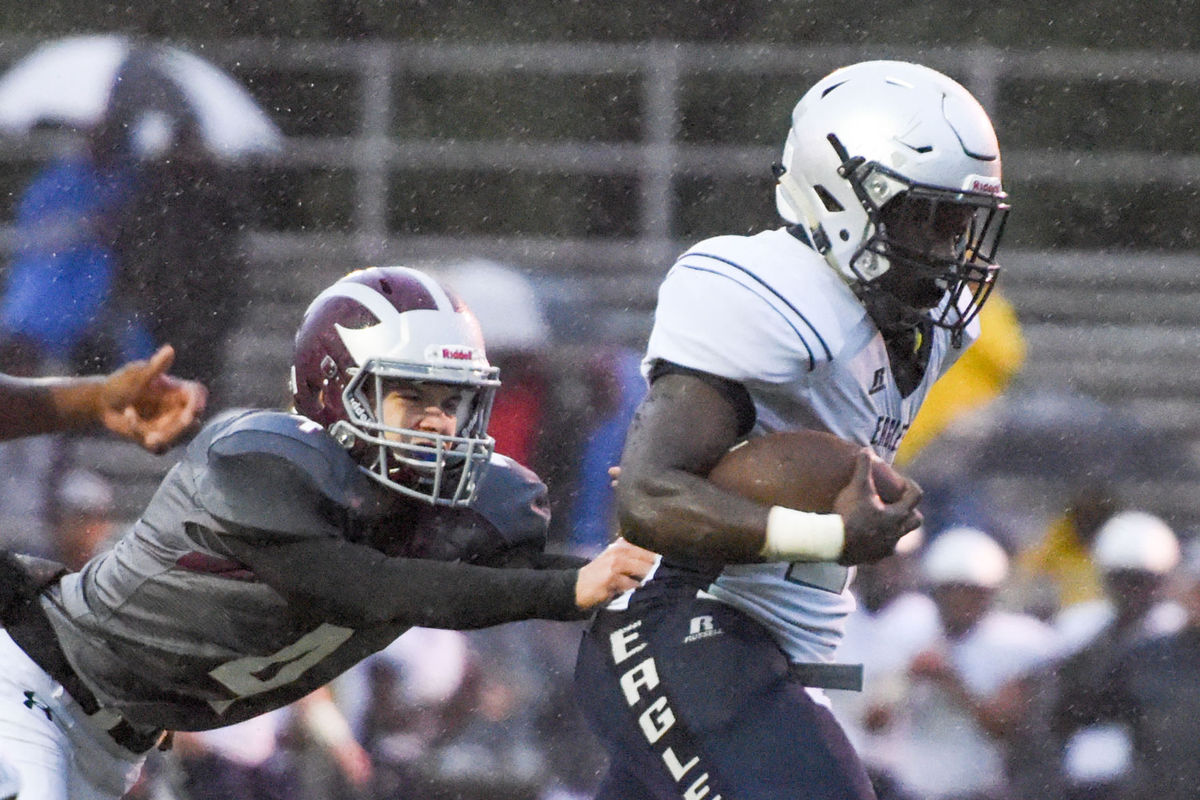 ---
TEAM STATS
| | | |
| --- | --- | --- |
| | G.W. | OPP. |
| First Downs | 12 | 11 |
| Rushes-Yds | 46-254 | 29-375 |
| Pass YDs | 139 | 208 |
| C-A-I | 12-23-0 | 6-9-0 |
| Total Yards | 393 | 583 |
INDIVIDUAL STATS
| | | | | |
| --- | --- | --- | --- | --- |
| RUSHING | Att. | Yds. | Avg. | TDs. |
| Cs. Poole | 13 | 90 | 6.9 | 1 |
| Waller | 15 | 72 | 5.4 | 2 |
| Harris | 13 | 47 | 3.7 | 1 |
| Graves | 4 | 42 | 10.5 | 0 |
| Crl. Poole | 1 | 3 | 3.0 | 0 |
| | | | | | |
| --- | --- | --- | --- | --- | --- |
| PASSING | ATT. | Comp. | Yds | TDs. | Int. |
| Cs. Poole | 23 | 12 | 139 | 2 | 0 |
| | | | | |
| --- | --- | --- | --- | --- |
| RECEIVING | NO. | YDS. | Avg. | TDs. |
| Watlington | 4 | 49 | 12.3 | 1 |
| Harris | 7 | 90 | 12.9 | 1 |
| Branch | 1 | 5 | 5.0 | 0 |
| | | | |
| --- | --- | --- | --- |
| KICKING | XPM-XPA | FGM-FGA | Pts. |
| Horng | 6-6 | 1-2 | 9 |
| | | | | | | | |
| --- | --- | --- | --- | --- | --- | --- | --- |
| SCORING | Rushing | Receiving | Return | XP | FG | Sf. | Points |
| Harris | 1 | 1 | 0 | 0 | 0 | 0 | 12 |
| Waller | 2 | 0 | 0 | 0 | 0 | 0 | 12 |
| Cs. Poole | 1 | 0 | 0 | 0 | 0 | 0 | 6 |
| Horng | 0 | 0 | 0 | 6 | 1 | 0 | 9 |
| Watlington | 0 | 1 | 0 | 0 | 0 | 0 | 6 |
First Quarter
AC — Ross 76 run (kick blocked) 11:42
GW — Harris 2 run (Horng kick) 1:52
AC — Scott 80 pass from Turner (pass failed) 1:33
Second Quarter
GW — Watlington 33 pass from Carlos Poole (Horng kick) 9:37
GW — Waller 13 run (Horng kick) 7:18
GW — Waller 16 run (Horng kick) 4:45
AC — Megginson 5 pass from Turner (Johnson kick) 0:27.5
Third Quarter
AC — Ross 3 rush (Johnson kick) 8:24
GW — Horng 21 field goal 7:40
AC — Ross 2 rush (Ross rush) 6:38
GW — Harris 39 pass from Poole (Horng kick) 2:22
AC — Megginson 7 run (Johnson kick) 1:11
Fourth Quarter
AC — Ross 5 run (Johnson kick) 10:04
AC — Ross 2 run (Johnson kick) 7:29
GW — Poole 27 run (Horng kick) 1:04
---