Nov. 10, 2017 --- G.W. 43 Amherst Co. 18
---
Playoff-sized revenge!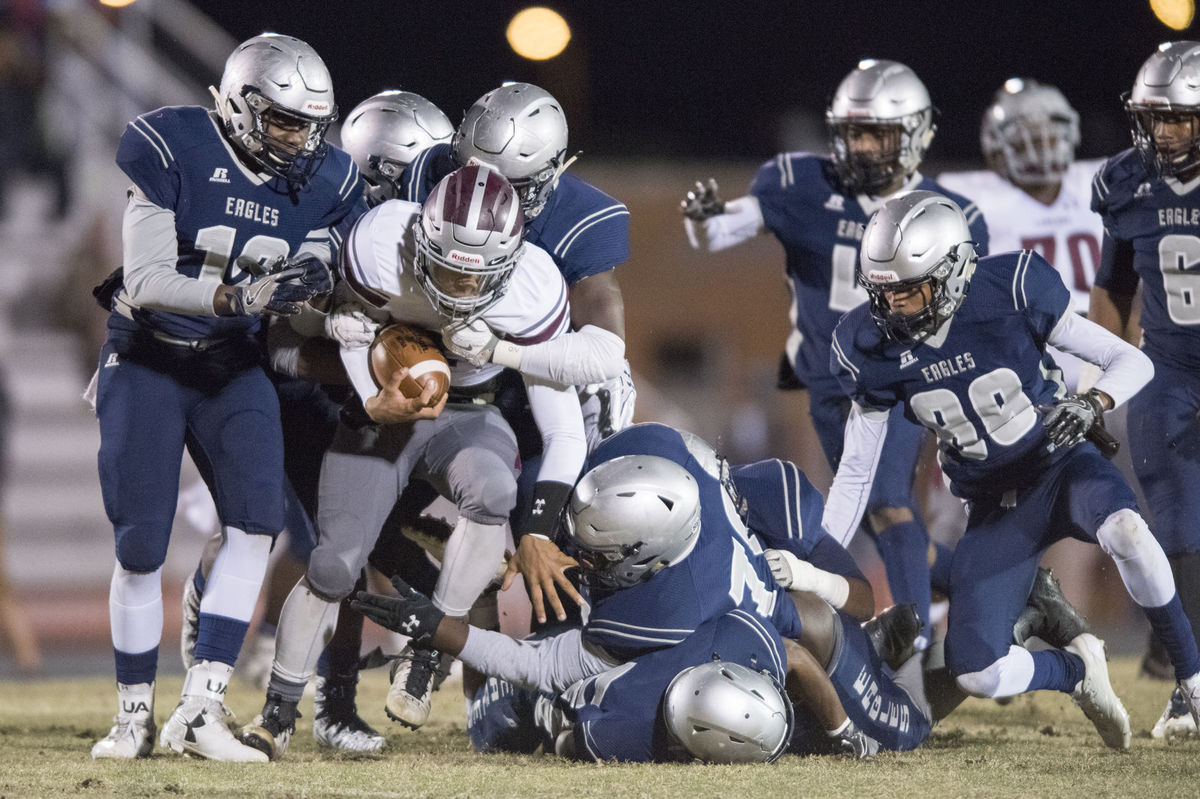 A swarming Eagle defense was the difference in this rematch!
(Matt Bell, Register and Bee photos)
Revenge is a dish best served cold...and in the playoffs! The GW Eagles avenged their only regular-season loss with a standout defensive performance. They bottled up an Amherst County offense that lit them up for 582 yards two months ago, winning their playoff opener 43-18!

The Eagles wasted little time getting on the scoreboard. A familiar pitch-and-catch combo hooked up on the Eagles' second possession. The Lancers quickly tied the score, but this would be no shootout. The Eagles answered on their very next possession. Then quarterback Carlos Poole used his legs to put the Eagles up 21-6 at the break.

In the second half, the Eagles took advantage of a special teams miscue to stretch their lead. Then, two touchdowns from Curtis Waller put the game out of reach!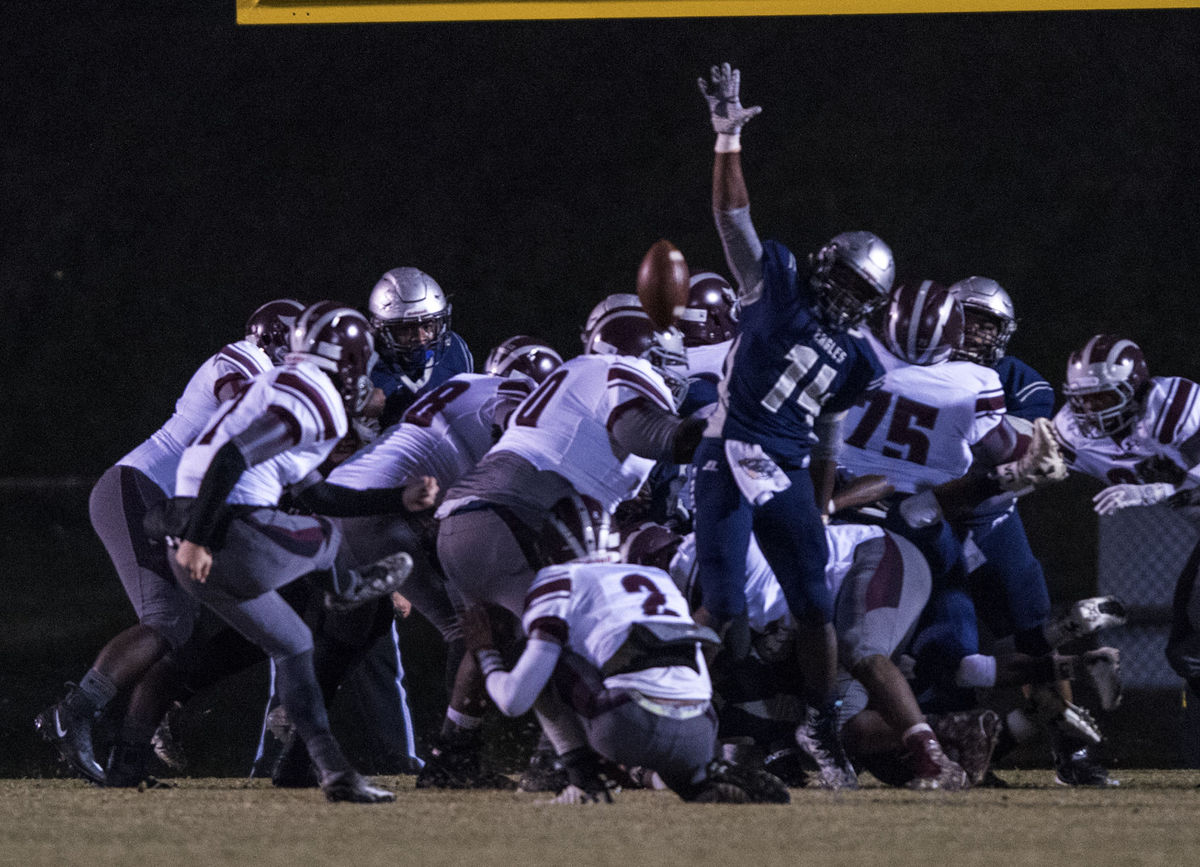 ---
TEAM STATS
| | | |
| --- | --- | --- |
| | G.W. | OPP. |
| First Downs | 15 | 16 |
| Rushes-Yds | 40-363 | 52-291 |
| Pass YDs | 32 | 27 |
| C-A-I | 1-9-1 | 4-15-0 |
| Total Yards | 395 | 318 |
INDIVIDUAL STATS
| | | | | |
| --- | --- | --- | --- | --- |
| RUSHING | Att. | Yds. | Avg. | TDs. |
| Graves | 22 | 167 | 7.4 | 2 |
| Cs. Poole | 9 | 166 | 17.8 | 1 |
| C. Waller | 8 | 33 | 4.3 | 2 |
| Harris | 1 | -3 | -3.0 | 0 |
| | | | | | |
| --- | --- | --- | --- | --- | --- |
| PASSING | ATT. | Comp. | Yds | TDs. | Int. |
| Cs. Poole | 9 | 1 | 32 | 1 | 1 |
| | | | | |
| --- | --- | --- | --- | --- |
| RECEIVING | NO. | YDS. | Avg. | TDs. |
| Watlington | 1 | 32 | 32.0 | 1 |
| | | | |
| --- | --- | --- | --- |
| KICKING | XPM-XPA | FGM-FGA | Pts. |
| Horng | 5-6 | 0-1 | 5 |
| | | | | |
| --- | --- | --- | --- | --- |
| INT. | No. | | SACKS | No. |
| | | | Cassida | 1 |
| | | | | | | | |
| --- | --- | --- | --- | --- | --- | --- | --- |
| SCORING | Rushing | Receiving | Return | XP | FG | Sf. | Points |
| Graves | 2 | 0 | 0 | 0 | 0 | 0 | 12 |
| C. Waller | 2 | 0 | 0 | 0 | 0 | 0 | 12 |
| Cs. Poole | 1 | 0 | 0 | 0 | 0 | 0 | 6 |
| Horng | 0 | 0 | 0 | 5 | 0 | 0 | 5 |
| Watlington | 0 | 1 | 0 | 0 | 0 | 0 | 6 |
| (Team) | 0 | 0 | 0 | 0 | 0 | 1 | 2 |
First Quarter
GW — Watlington 32 pass from Cs. Poole (Horng kick) 8:13
AC --- Smith 43 run (kick blocked) 3:47
GW --- Graves 8 run (Horng kick) 1:10
Second Quarter
GW --- Cs. Poole 63 run (Horng kick) 10:08
Third Quarter
GW — Safety, runner downed in end zone 6:18
GW --- Waller 4 run (Horng kick) 3:44
GW --- Waller 4 run (kick failed) 0:34
Fourth Quarter
AC --- Ross 2 run (pass failed) 9:58
GW --- Graves 5 run (Horng kick) 2:37
AC --- Smith 13 pass from Turner (no kick) 0:00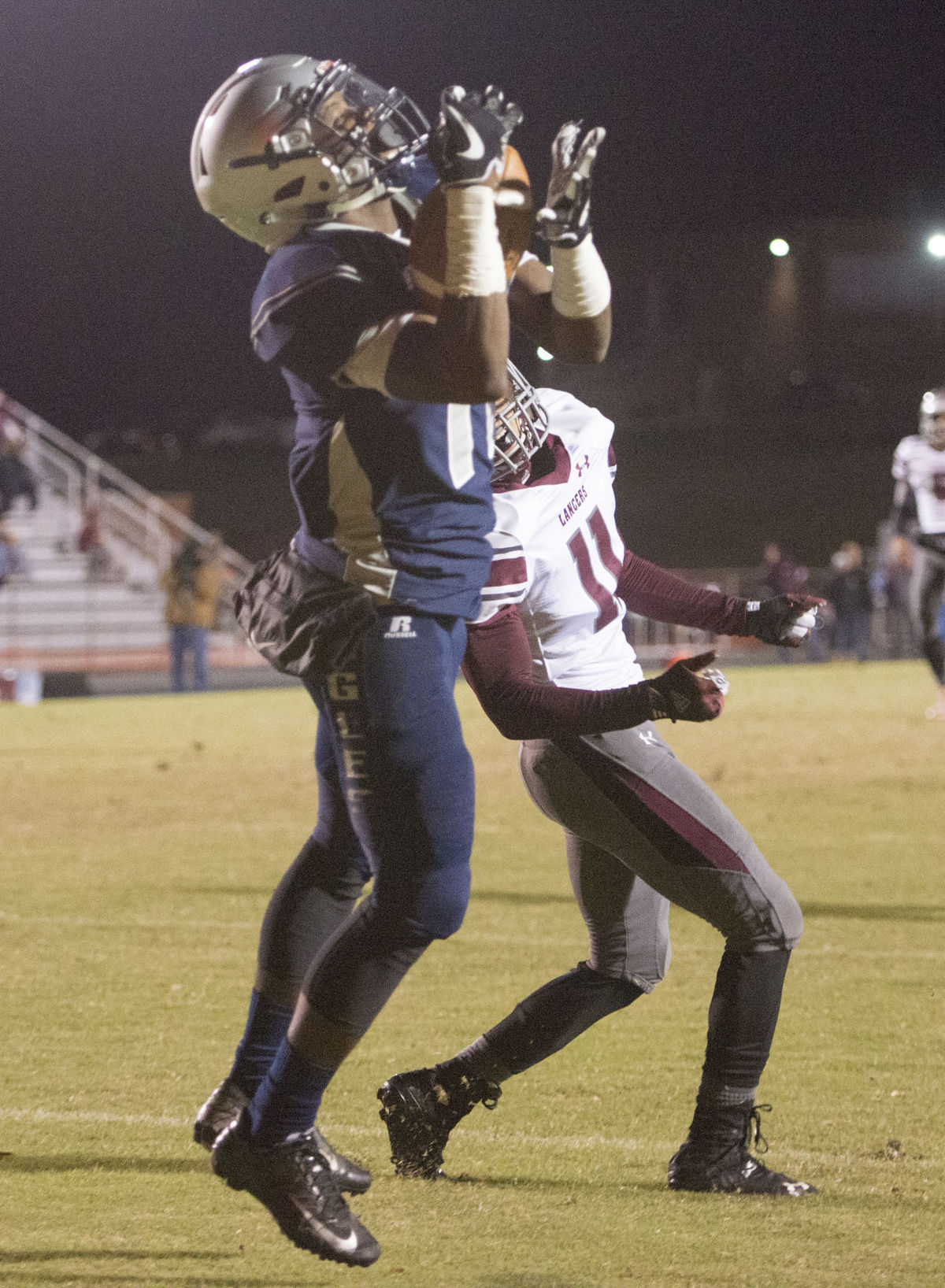 ---