Nov. 3, 2017 --- G.W. 58 Halifax 14
---
Clean sweep through the Piedmont!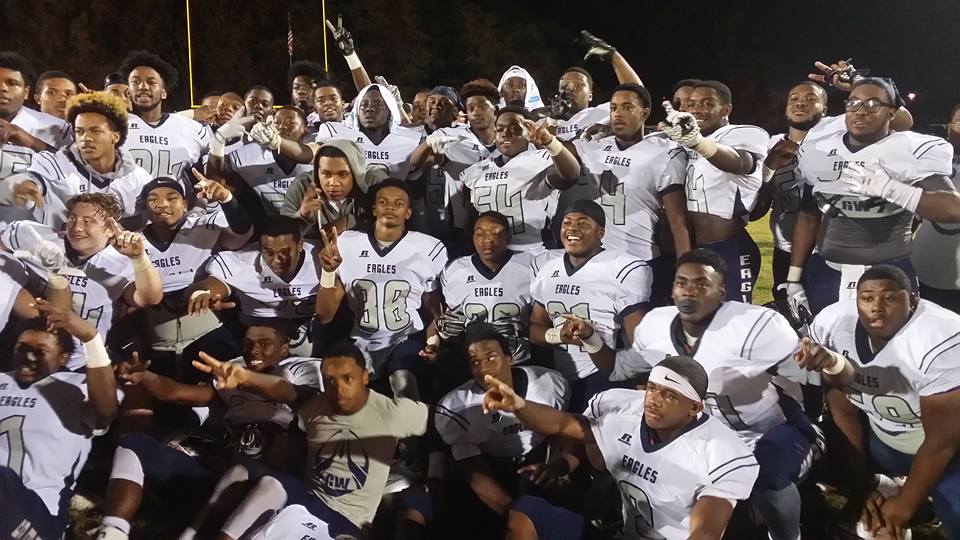 Your 2017 Piedmont District champions!
(MyLife MyJoy photo)
The GW Eagles clinched their third Piedmont District title in the past four years, while setting an all-time school record for points in a regular season. It came as they finished a clean sweep of the Piedmont District with an emphatic 58-14 win over the Halifax County Blue Comets!

The Eagles wasted no time getting on board as Carlos Poole found Shawn Watlington just 47 seconds into the game! But the Comets stormed back with an 80-yard touchdown run to tie the game. But the Eagles took 16 seconds to reclaim the lead. They would snowball from there. GW ended up with 51 consecutive points before a late Blue Comet touchdown.

The 58 points gives the Eagles 578 on the season, eclipsing the 554 points scored by the 2014 team during the entire season...including playoffs!

Next week the Eagles open the playoffs at home with a rematch against Amherst County---the only team that beat them during the regular season!

---
TEAM STATS
| | | |
| --- | --- | --- |
| | G.W. | OPP. |
| First Downs | 14 | 7 |
| Rushes-Yds | 34-212 | 34-179 |
| Pass YDs | 128 | 17 |
| C-A-I | 7-11-0 | 2-7-0 |
| Total Yards | 340 | 196 |
INDIVIDUAL STATS
| | | | | |
| --- | --- | --- | --- | --- |
| RUSHING | Att. | Yds. | Avg. | TDs. |
| Graves | 16 | 121 | 7.7 | 1 |
| Cs. Poole | 10 | 65 | 6.5 | 3 |
| Waller | 1 | 18 | 18.0 | 0 |
| Edmonds | 4 | 7 | 2.8 | 0 |
| Harris | 1 | 4 | 4.0 | 0 |
| Davis | 2 | -3 | -1.5 | 0 |
| | | | | | |
| --- | --- | --- | --- | --- | --- |
| PASSING | ATT. | Comp. | Yds | TDs. | Int. |
| Cs. Poole | 11 | 7 | 128 | 3 | 0 |
| | | | | |
| --- | --- | --- | --- | --- |
| RECEIVING | NO. | YDS. | Avg. | TDs. |
| Branch | 2 | 45 | 23.5 | 1 |
| Watlington | 2 | 44 | 22.0 | 1 |
| Harris | 1 | 20 | 20.0 | 1 |
| Hairston | 2 | 19 | 9.5 | 0 |
| | | | |
| --- | --- | --- | --- |
| KICKING | XPM-XPA | FGM-FGA | Pts. |
| Horng | 7-8 | 1-1 | 10 |
| | | | | |
| --- | --- | --- | --- | --- |
| INT. | No. | | SACKS | No. |
| | | | C. Waller | 2 |
| | | | J. Williams | 1 |
| | | | | | | | |
| --- | --- | --- | --- | --- | --- | --- | --- |
| SCORING | Rushing | Receiving | Return | XP | FG | Sf. | Points |
| Cs. Poole | 3 | 0 | 0 | 0 | 0 | 0 | 18 |
| Horng | 0 | 0 | 0 | 7 | 1 | 0 | 10 |
| Williams | 0 | 0 | 1 | 0 | 0 | 0 | 6 |
| Branch | 0 | 1 | 0 | 0 | 0 | 0 | 6 |
| Graves | 1 | 0 | 0 | 0 | 0 | 0 | 6 |
| Harris | 0 | 1 | 0 | 0 | 0 | 0 | 6 |
| Watlington | 0 | 1 | 0 | 0 | 0 | 0 | 6 |
First Quarter
GW — Watlington 22 pass from Cs. Poole (Horng kick) 11:13
HC --- Brandon 80 run (kick good) 10:47
GW --- Harris 20 pass from Cs. Poole (Horng kick) 10:31
GW --- Cs. Poole 1 run (Horng kick) 1:53
Second Quarter
GW — Branch 19 pass from Cs. Poole (Horng kick) 10:49
GW --- Graves 4 run (kick failed) 8:20
GW --- Cs. Poole 3 run (Horng kick) 3:06
GW --- J. Williams 22 fumble return (Horng kick) 2:49
Third Quarter
GW — Cs. Poole 1 run (Horng kick) 1:51
Fourth Quarter
GW --- Horng 36 field goal 8:34
HC --- Hodge 25 run (kick good) 5:27
---