Aug. 25, 2017 --- G.W. 49 LCA 42
---
Cardiac Comeback!!

Weber Harris scores the game-winner!
(Matt Bell, Register and Bee, photos)
The GW Eagles overcome two separate two-touchdown deficits, scoring on a thrilling fourth-down play with a minute-and-a-half left to stun the LCA Bulldogs, 49-42 in their 2017 season opener.

The game could not have started worse for the Eagles. LCA scored on a 65-yard pass on their first play from scrimmage. They added another score and led 14-0, three-and-a-half minutes into the game!

But the Eagles chipped away. They scored twice, include Carl Poole's impressive 33-yard TD run, to make if 17-14 LCA. But the Bulldogs had more bite. They hooked up on another long pass, THEN returned a fumble on the subsequent kickoff for a touchdown to stretch their lead to 29-14. GW scored again before the half to go into the break down 29-21.

In the second half, GW quickly scored to get within two, but the Bulldogs answered with their third long touchdown pass of the night to make it 35-27. The Eagles kept pounding. Wesley Graves scored his second touchdown of the night to bring them within one. But LCA scored AGAIN late in the third to make it 42-34.

But the fourth quarter belonged to the Eagles. Weber Harris' third touchdown and two-point conversion tied the game at the 8:53 mark. Then the Eagles defense finally got the stop they needed. The offense then embarked on a nearly five-minute drive. It culminated on a gutsy fourth-and-one call from the 16.

Working with their first lead of the game, the Eagles defense got nasty. They pressured the quarterback on three straight snaps. Then they snuffed out a screen pass on fourth down to seal the deal!!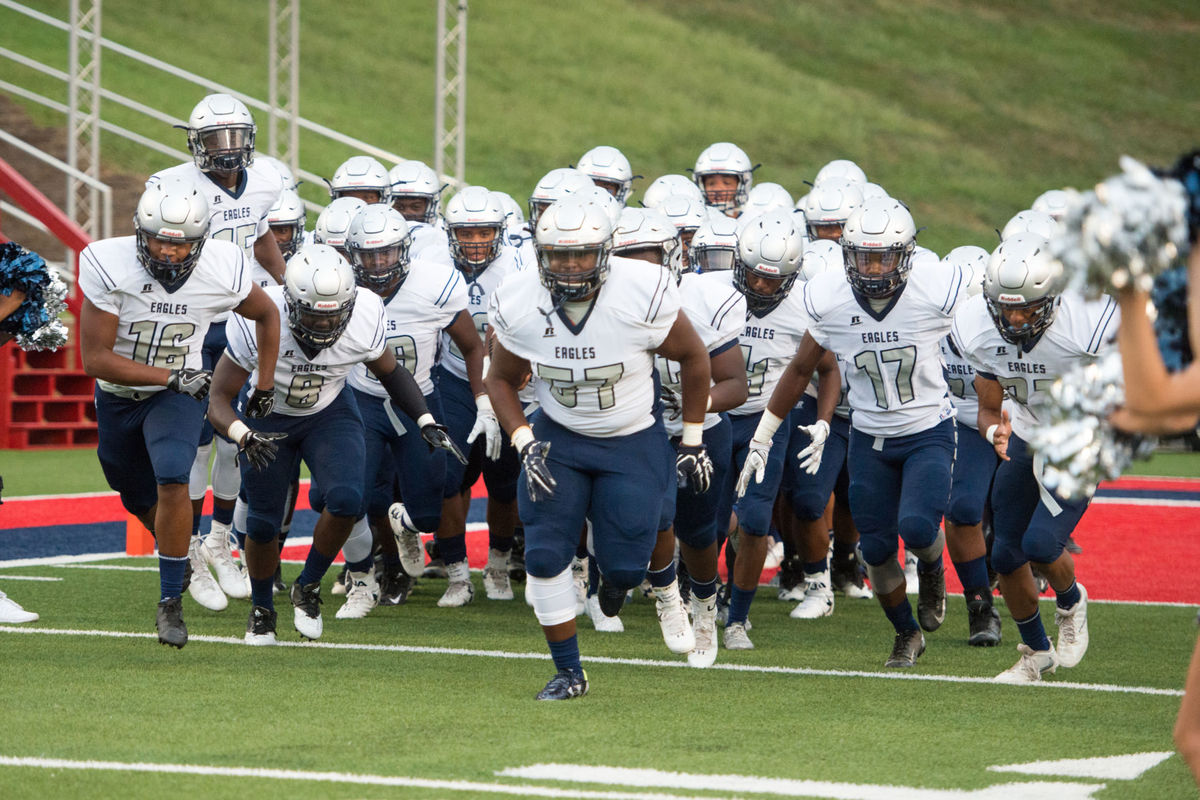 | | |
| --- | --- |
| | |
---
TEAM STATS
| | | |
| --- | --- | --- |
| | G.W. | OPP. |
| First Downs | 18 | 13 |
| Rushes-Yds | 42-314 | 30-157 |
| Pass YDs | 150 | 297 |
| C-A-I | 11-21-0 | 13-21-1 |
| Total Yards | 464 | 453 |
INDIVIDUAL STATS
| | | | | |
| --- | --- | --- | --- | --- |
| RUSHING | Att. | Yds. | Avg. | TDs. |
| Graves | 15 | 157 | 10.6 | 2 |
| Harris | 11 | 62 | 5.7 | 4 |
| Crl. Poole | 3 | 47 | 0.0 | 1 |
| Cs. Poole | 11 | 42 | 3.9 | 0 |
| Waller | 2 | 6 | 3.0 | 0 |
| | | | | | |
| --- | --- | --- | --- | --- | --- |
| PASSING | ATT. | Comp. | Yds | TDs. | Int. |
| Cs. Poole | 21 | 11 | 150 | 0 | 0 |
| | | | | |
| --- | --- | --- | --- | --- |
| RECEIVING | NO. | YDS. | Avg. | TDs. |
| Watlington | 6 | 96 | 16.0 | 0 |
| Harris | 3 | 41 | 13.7 | 0 |
| Hairston | 1 | 13 | 13.0 | 0 |
| | | | |
| --- | --- | --- | --- |
| KICKING | XPM-XPA | FGM-FGA | Pts. |
| Horng | 5-6 | 1-1 | 6 |
| | | | | |
| --- | --- | --- | --- | --- |
| INT. | No. | | SACKS | No. |
| Henderson | 1 | | Davis | 1 |
| | | | | | | | |
| --- | --- | --- | --- | --- | --- | --- | --- |
| SCORING | Rushing | Receiving | Return | XP | FG | Sf. | Points |
| Harris | 4 | 0 | 0 | 1 | 0 | 0 | 26 |
| Graves | 2 | 0 | 0 | 0 | 0 | 0 | 12 |
| Cl. Poole | 1 | 0 | 0 | 0 | 0 | 0 | 6 |
| Horng | 0 | 0 | 0 | 5 | 0 | 0 | 5 |
First Quarter
LCA — Ogle 65 pass from Stamn (Goldsmith kick) 11:44
LCA — Venhorst 4 rush (Goldsmith kick) 8:30
GW — Carl Poole 32 rush (Jerry Horng kick) 4:33
LCA — Goldsmith 34 field goal 3:09
Second Quarter
GW — Harris 6 rush (Horng kick) 7:59
LCA — Ogle 77 pass from Stamn (kick blocked) 7:24
LCA — Davidson 22 fumble return (pass failed) 7:23
GW — Graves 30 rush (Horng kick) 5:57
Third Quarter
GW — Harris 12 rush (kick failed) 10:49
LCA — Harre 56 pass from Stamn (kick failed) 9:18
GW — Graves 50 rush (Horng kick) 3:45
LCA — Kirk 2 rush (Goldsmith kick) 1:00
Fourth Quarter
GW — Harris 2 rush (Harris rush) 8:53
GW — Harris 16 rush (Horng kick) 1:38
---