Sep. 3, 2016 --- Vance 48 G.W. 7
---
Tough day in the Tar Heel State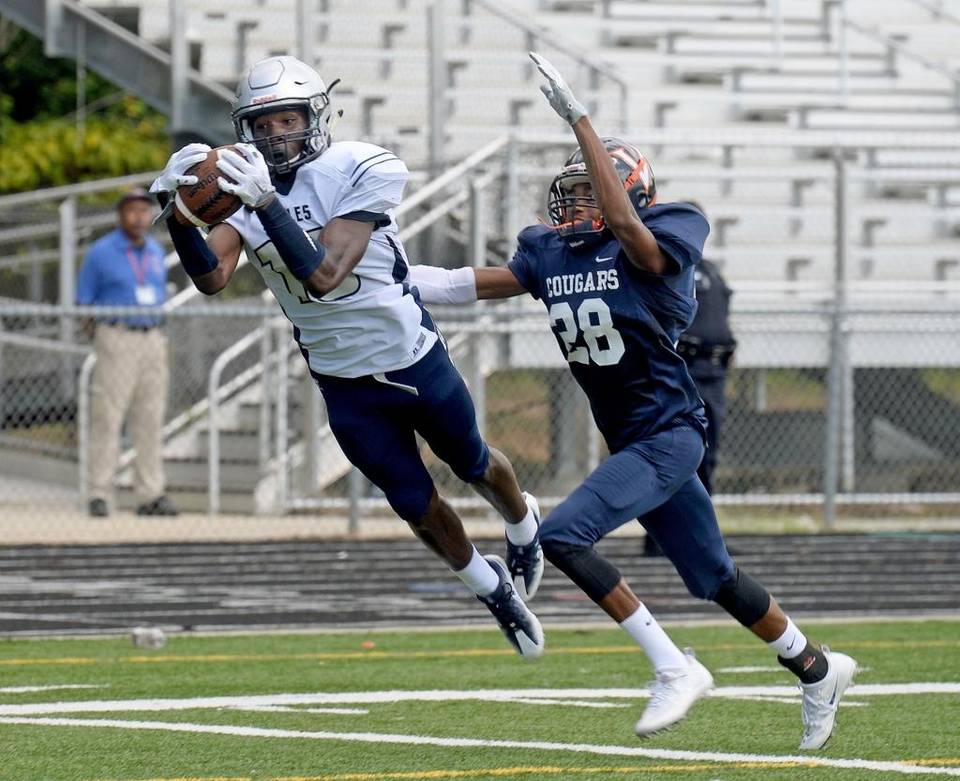 DeShawn Wallace hauls in a 31-yard touchdown pass!
(Charlotte Observer photos)
It was not a recipe for success this weekend as the GW Eagles took on the powerful Cougars of Vance High School in Charlotte. First off, the game was rained out Friday because of a Hurricane and moved to Saturday. Then, less than 24 hours before kickoff, the venue was changed. The Eagles stumbled out of the gate, rebounded a bit, but were eventually overwhelmed by the talented Cougars, 48-7.
Vance scored on their first two possessions of the afternoon to take a 14-0 lead. Then, they had first-and-goal from the one. But they made an ill-advised decision to pass...and Henry Barley made them pay with an end zone interception.
Then the Eagles embarked on one of their most impressive drives in years. They went 80 yards on 13 plays...most of them short passes...eating up more than five-and-a-half minutes of clock. They used a long pass to score and get to within a touchdown.
But Vance marched downfield and scored to take a 20-7 lead into the break. In the second half, it was all Cougars. They scored touchdowns on four of their five possessions. The Eagles offense put together two drives of ten plays or more, but couldn't score on either one of them.
It was the Eagles' worst loss since a 42-0 road setback against Battlefield in 2010. It was also the most yards they had given up in the modern era. However, Sam Branch set a modern era record with 22 completions, eclipsing the 20 Hunter Byrnes had against Martinsville in 2013.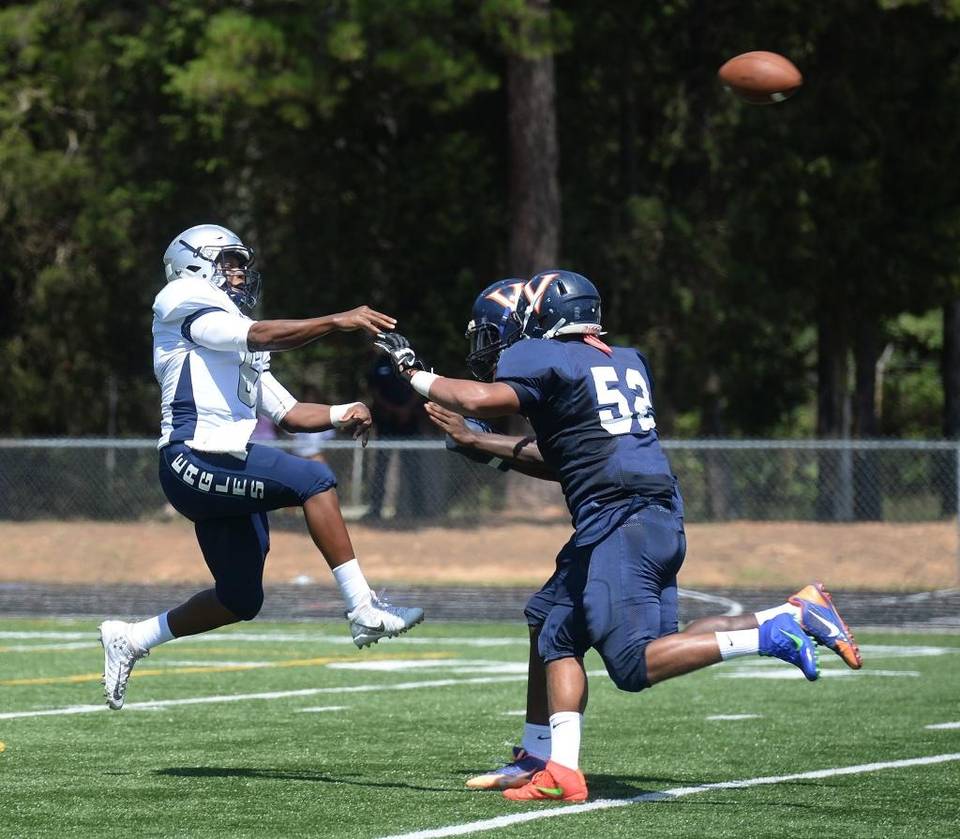 Sam Branch gets a pass off under pressure!
---
TEAM STATS
| | | |
| --- | --- | --- |
| | G.W. | OPP. |
| First Downs | 17 | 21 |
| Rushes-Yds | 31-82 | 30-291 |
| Pass YDs | 202 | 271 |
| C-A-I | 22-36-0 | 12-20-2 |
| Total Yards | 284 | 562 |
INDIVIDUAL STATS
| | | | | |
| --- | --- | --- | --- | --- |
| RUSHING | Att. | Yds. | Avg. | TDs. |
| Forest | 21 | 67 | 3.4 | 0 |
| Waller | 2 | 12 | 6.0 | 0 |
| Branch | 8 | 3 | 0.4 | 0 |
| | | | | | |
| --- | --- | --- | --- | --- | --- |
| PASSING | ATT. | Comp. | Yds | TDs. | Int. |
| Branch | 36 | 22 | 202 | 1 | 0 |
| | | | | |
| --- | --- | --- | --- | --- |
| RECEIVING | NO. | YDS. | Avg. | TDs. |
| Wallace | 2 | 41 | 20.5 | 1 |
| Harris | 8 | 46 | 5.7 | 0 |
| Witcher | 4 | 14 | 3.5 | 0 |
| Forest | 3 | 54 | 18.0 | 0 |
| D. Hairston | 3 | 31 | 10.3 | 0 |
| Barley | 1 | 13 | 13.0 | 0 |
| Williams | 1 | 3 | 3.0 | 0 |
| | | | |
| --- | --- | --- | --- |
| KICKING | XPM-XPA | FGM-FGA | Pts. |
| Harris | 1-1 | 0-1 | 1 |
| | | | | |
| --- | --- | --- | --- | --- |
| INT. | No. | | SACKS | No. |
| Barley | 1 | | | |
| Grasty | 1 | | | |
| | | | | | | | |
| --- | --- | --- | --- | --- | --- | --- | --- |
| SCORING | Rushing | Receiving | Return | XP | FG | Sf. | Points |
| Wallace | 0 | 1 | 0 | 0 | 0 | 0 | 6 |
| Harris | 0 | 0 | 0 | 1 | 0 | 0 | 1 |
First Quarter
Vance -- Ifedi 5 run (Hall Kick) 10:17
Vance -- Ifedi 2 run (kick failed) 7:09
Second Quarter
GW – Wallce 31 pass from Branch (Harris kick) 7:44
Vance -- Ifedi 12 run (Hall Kick) 3:50
Third Quarter
Vance -- Clark 1 run (Hall Kick) 8:51
Vance -- Williams 31 run (Hall Kick) 1:15
Fourth Quarter
Vance -- Clark 12 run (Hall Kick) 4:09
Vance -- Williams 24 run (Hall Kick) 0:29
---